Ding works incredibly hard to provide for his daughter, a university student studying in the US. It is not uncommon for him to work seven days a week, pressing garments in his usual factory of employment and finding overtime at another in the area. Ding's first priority is his daughter. He wants her to finish her education do she has the opportunity to be successful in life.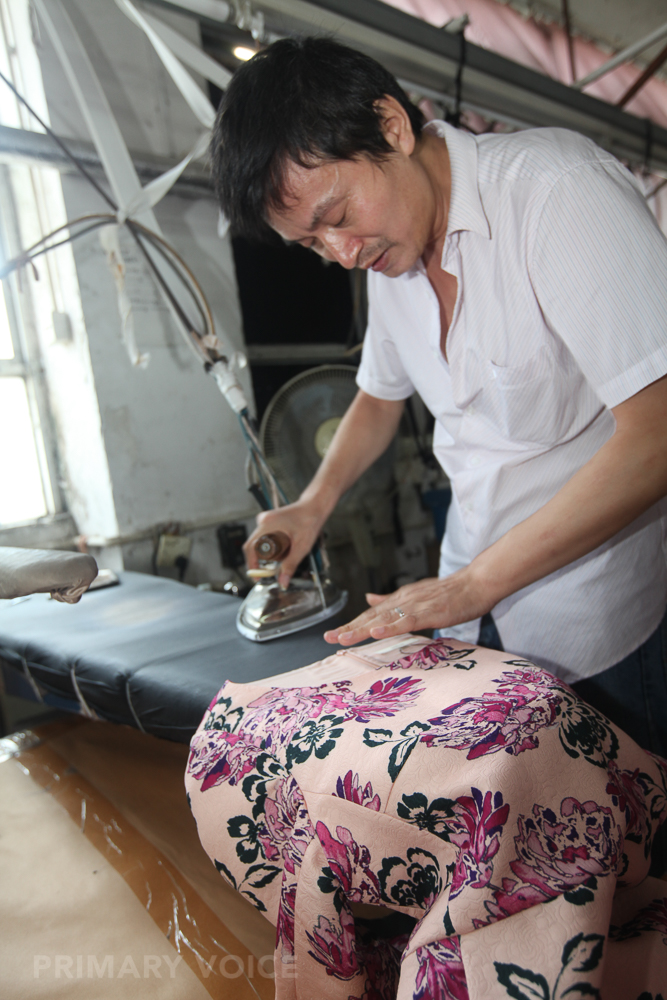 Ding's Story
Shenzhen developed earlier than other cities in China so there were many more opportunities to find work here when I first arrived. I came here along with other migrant workers. I didn't think I would stay here for long but it ended up being 20 years. I have been in Shenzhen for 22 years. Before I married, and when I was young, I lived in cities all across China. I am originally from Jin Jiang in China's northeastern Jiang Su Province. I go home once a year for the Spring Festival.
I work in garment factories pressing clothes before they are packed for distribution. I've had this job on and off over the course of my life. My very first job was as a presser. Soon after, I graduated to a managerial position doing logistics for 20 years. Now I am back to my old job. It's harder but I have more flexibility and less pressure.
My wife doesn't live here with me. We used to live together but, when our daughter started junior high school, my wife left to be with her. Our daughter's teacher called to tell us she was not doing well in school. As parents we want our kids to have a better life than we do and we want them to achieve something. I don't want her to end up doing physical labor like us.
Now our daughter is 28th in her faculty at university. I am relieved to see her doing so well. She is a good kid and I am proud of her. She studies information engineering at Nanjing University. I'm not sure what her future holds, because it is up to her. She may not be able to make a lot of money because getting rich partly depends on luck.
Earlier this year she was selected as one of ten students to study abroad in America. There was a test to select those ten students. Those who aced the test could go. The school will pay for half of the expenses and we will cover the other half. So far, my wife and I can afford it. We are a bit strapped for cash, but I haven't worked excessively because health is also important to me. If there are orders coming into the factory and us workers have the opportunity for lots of overtime then I can just stay here. However, if there is no overtime at this factory then I will go to other factories to do the same work. I just don't take any days off. That includes Sunday. I see a bit of myself in my daughter. She is hardworking.
The reason I stay so disciplined in my work is my child. I want to provide for her. I believe you can do anything you want as long as you have money, but you can't do anything without money. When my kid finds a job, builds her own family and everything is settled for her, only then will I go back to my hometown. I'll find a job there so my kid doesn't have to support me. I don't want to burden her and I want to lift some pressure from her shoulders. I will work until I can't. That is how I will live my life.
This interview has been edited for clarity. It was originally conducted on July 13, 2014, in Shenzhen, China.